What's for dinner tonight? Ever thought of having coffee? Not just a hot cup, but actually using coffee to marinate your steak? Yes, it's possible with our Coffee Marinated Steak Fajitas recipe!
This includes a unique blend of our Code Blue Artisan Coffee brewed cold in our Madesco Labs filters.
Definitely something new to spice things up for dinner time with the family or to entertain on special occasions.
Follow the recipe below to bring a new coffee twist to your dinner.
Coffee Marinated Steak Fajitas Recipe
Ingredients:
For the Marinade
    1 ½ cups Madesco cold brew coffee
    1 Tbsp. Coconut Aminos
    1 Tbsp. White wine vinegar
    1 tsp. chili powder
    1 tsp. salt
For the Rub
    2 Tbsp.of your favorite ground coffee
    ½ tsp. cinnamon
    ½ tsp. cumin
    ½ tsp. smoked paprika
    salt and pepper, to taste
For the Fajitas
    1lb. Yampa Valey Grass Fed Sirloin Steak
    1 red onion, sliced
    1 poblano pepper, sliced julienne style
    1 yellow bell pepper, sliced julienne style
    1 orange bell pepper, sliced julienne style
    2 Tbsp. fat (I used bacon fat)
    Juice of 2 limes
    Juice of ½ lemon
Directions
Throw all the marinating ingredients into a big plastic baggy along with your sirloin steak and put it in the fridge to marinate. Marinate for at least a couple of hours, ideally overnight.
Once your steak is done marinating, place your rub seasonings on a plate, pull your steaks out of the marinade, and cover the steaks on both sides with the rub.
Heat up a skillet with 1 tablespoon of fat (I used bacon fat) and when the skillet is super hot, add your sirloin steak to it. Cook on both sides for about 5 minutes (Less if your steak is thin). Only flip your steak once.
While your steak is cooking, heat up another skillet with another tablespoon of fat and add your onions, poblano pepper, and bell peppers. Let them cook, occasionally stirring so they do not burn.
Once your sirloin steaks are done cooking, pull them on the stovetop on let sit for about 5 minutes. There are a ton of juices in there, and you don't want them to juice out! Let the meat rest!!
When your meat has rested, thinly slice the steak and throw in your pan with your fully cooked veggies. Squeeze the lime and lemon on top! You just want to incorporate some of the steak juices and flavors so it shouldn't be for on the stop for more than 20 seconds. If it's longer, the meat may get too cooked and be tough.
Salt and pepper the fajitas and serve with a side of guac or sliced avocado!
Get More Cold Brew Coffee Recipes!
There are a lot more recipes for Christmas featured in our Madesco Labs cookbooks. Get our specialty bundle with any purchase of our Madesco Labs Products.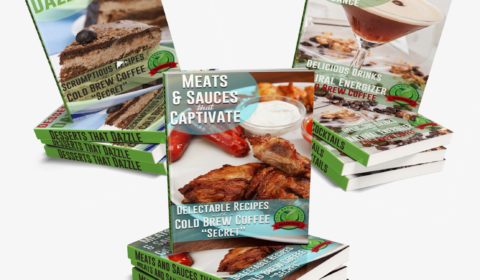 And if you haven't already done so, download your Free "Cooking with Cold Brew Coffee" recipe book here.