Coconut coffee cake made with cold brew coffee is a great dessert feature for any occasion. Once you have brewed the specialty Code Blue Coffee Grind in the Madesco Cold Brew Filter, you'll be able to use it in this recipe.
Ingredients:
For the Cake:
⅓ cup un-sweetened shredded coconut
½ cup gold label virgin coconut oil, melted
For the Topping:
1 cup sliced almonds

2 Tbsp. gold label virgin coconut oil

2 Tbsp. raw honey

1 Tbsp. maple syrup

1 tsp. cinnamon

½ tsp. vanilla extract

Pinch of salt
Coconut Coffee Cake Directions
Preheat oven to 350°F.

Mix all dry ingredients: almond flour, coconut flour, shredded coconut, baking soda, baking powder, cinnamon, and salt.

Add remaining wet ingredients (coconut oil, coconut milk, cold brew, honey, ground coffee, vanilla) to dry ingredients. Mix together.

Grease and 8 x 8 or 9 x 9 glass baking dish and pour into the dish.

Bake for 25-30 minutes or until edges are browned and the middle is completely cooked through.

While the cake cools, place a large skillet over medium heat.

Add coconut oil and then almonds. Mix to coat almonds.

When the almonds begin to toast and have a bit of browning to them (be careful because they burn easily), add your honey, maple syrup, cinnamon, vanilla, and salt. Mix thoroughly.

Remove from heat but cook for a couple minutes more being sure not to burn the almonds.

Once the cake cools, top it with almonds and lightly press down to help them stick to the cake.
Other Great Coffee Cakes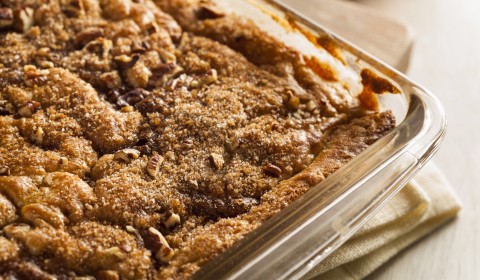 Here's a tasty and sophisticated dessert that will have them silently eating. Cold brew coffee cake is a traditional way to satisfy your sweet tooth after the main course. Click here for the recipe!
Dark Chocolate Cake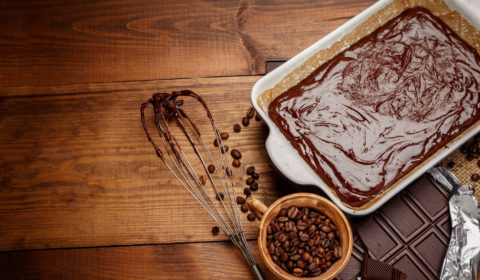 Better than your average chocolate cake. This version features our favorite ingredient: cold brew coffee. Try this rich and smooth chocolate coffee cake here.