Here's a tasty and sophisticated dessert that will have them silently eating. Cold brew coffee cake is a traditional way to satisfy your sweet tooth after a main course. Now you can top it off with crumbled pecans, walnuts, caramel and ice cream – need I say more? You likely have most of the following ingredients in your cupboards waiting to be devoured, or simply run to your 24/7 store so you can whip this up in no time.
Cold Brew Coffee Cake with Crumble Topping
Ingredients:
2 cups self-rising flour
1 tsp. ground cinnamon
¾ cup packed brown sugar
½ cup (1 stick) cold unsalted butter or margarine, cut into small pieces
½ cup chopped walnuts or pecans
1 large egg, slightly beaten
Directions
Heat oven to 375°F. Lightly coat an 8×2 inch round cake pan with cooking spray.
Line the bottom with parchment paper and spray the paper.
In a food processor, combine flour, cinnamon, and brown sugar using the pulse setting to mix.
Add the butter or margarine and pulse until the mixture looks like coarse bread crumbs. Transfer ½ cup of this mixture to a small bowl, mix with nuts, and set aside.
Add the egg and coffee to the food processor and pulse until just combined.
Transfer the batter to the prepared pan.
Sprinkle the nut mixture over the top and bake until a wooden toothpick inserted into the center comes out clean, about 35-40 minutes.
Place on a cooling rack for 10 minutes before serving.
Cold Brew Coffee Ice Cream
Serves: Makes approx 1 liter
Ingredients:
Directions:
Create the cold-brew coffee concentrate by taking 3/4 cup of coarsely ground coffee and putting it into the Madesco Cold Brew Coffee Filter. Add 3/4 cup of cool water and let it steep for 12 hours.
Mix the condensed milk, cream, and quarter cup of cold-brew coffee concentrate in a bowl, and keep it in the fridge to chill for a couple of hours to allow it sufficient time to get really cold.
During the last two minutes of churn, add chocolate chips.
Place it in a freezer container and give it a good stir to make sure the chocolate chips are all incorporated.
Before serving, you can drizzle some Caramel Coffee Sauce on top!
Coffee Caramel Sauce
Add a warm and sweet station to your cake and ice cream by drizzling coffee caramel sauce on top!
Ingredients:
4 oz. (8 Tbsp.) unsalted butter, room temperature
1 cup packed dark brown sugar
1 cup heavy cream
1 Tbsp. bourbon
1 ts. pure vanilla extract
Directions:
Combine butter, sugar, and cream into a heavy saucepan.
Whisking constantly, bring the mixture to a boil and cook for 3 minutes.
Remove from heat and whisk in bourbon, cold brew coffee concentrate, and vanilla.
Get More Cold Brew Coffee Recipes!
There are a lot more recipes for Christmas featured in our Madesco Labs cookbooks. Get our specialty bundle with any purchase of our Madesco Labs Products.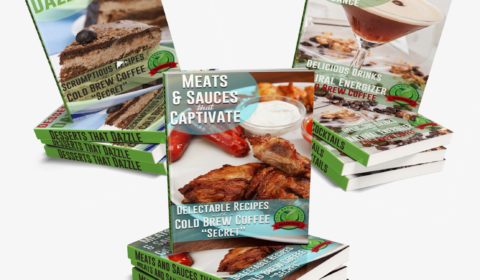 And if you haven't already done so, download your Free "Cooking with Cold Brew Coffee" recipe book here.