We were inspired  by this vintage article in The Brooklyn Daily Eagle on September 7, 1916. It features the "secret" ingredient behind gravy! Can you guess the special ingredient? Coffee of course!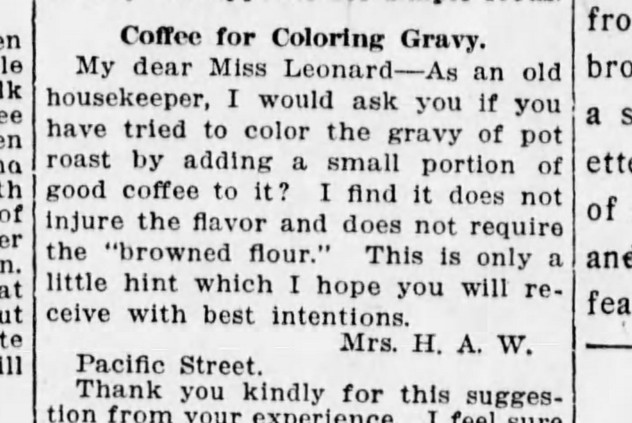 Here's one of our favorite gravy recipes for you made with our gourmet style cold brew coffee. We tried this Roast Beef with Gravy Recipe and loved it! For turkey simply substitute cold brew coffee for your recipe's water. Use this gravy recipe for everyday cooking or special occasions like Thanksgiving or Christmas Dinner!
Coffee Gravy Recipe
Ingredients
2 cups Cold Brew Coffee
roast beef
salt and pepper
1 tablespoon oil
2 onions (sliced)
1 tablespoon balsamic vinegar
2 bay leaves
1 teaspoon thyme
1 tablespoon flour mixed into 1 tablespoon water
salt and pepper to taste
*Beef broth can be added if desired.
Directions
Season the beef with salt and pepper then place it in an oil heated in a pan until the beef is brown on all sides. Remove the beef and add the onion to the pan and saute until clear and tender. *Add 2 cups beef broth if desired. Add the beef back into the pan and add the cold brew coffee, bay leaves, thyme balsamic vinegar. Let simmer. Bake on 325F/170C for 3 to 5 hours until tender the beef is tender. Remove the beef and let the broth cool for 5 minutes. Remove excess fat from the broth and add flour and water slowly until the broth thickens. Add salt and pepper as desired.