We love to spice things up with coffee every now and then. Our Chile Short Ribs recipe made with cold brew coffee is definitely going to add a dash of pleasure to your dinner. This creative blend of sweet and spicy ingredients with specialty coffee will pleasantly surprise your taste buds. It's truly unique compared to anything you have tried before.
This specialty entree is perfect to pair with your traditional mash potatoes and grilled vegetables. These simple sides allow for your specialty ribs to stand out on it's own with its rare seasoning blend. Serve it as a new dish in your regular meal planning and for special family dinners and entertaining for Thanksgiving, Christmas and any family occasion.
For this recipe, you will need to prep your cold brew coffee using our Madesco Coffee filters. Our filters are best used with our Code Blue Specialty Coffee designed for cold brewing. Follow the directions here to prepare your batch of cold brew coffee.
Chile Short Ribs with Cold Brew Coffee Recipe
Ingredients:
4lbs Grass Fed Beef Short Ribs
1 large yellow onion, roughly sliced
4 dried ancho chiles, stems and seeds removed
4 garlic cloves
2 Tbsp. raw honey
2 Tbsp. extra virgin olive oil
1 Tbsp. lime juice
½ cup vegetable broth or water
salt and pepper, to taste
Directions:
Place dried ancho chiles in a bowl and cover with hot water. Let sit for around 20-30 minutes until soft.
Add your softened ancho chiles, brewed coffee, garlic cloves, honey, olive oil, lime and salt and pepper in your food processor and puree.
Place onions in the bottom of your crockpot and add your water or broth.
Stack your short ribs on top of onions then pour your coffee-ancho chile sauce on top.
Top with a bit more salt.
Cover and let cook on low for 6-8 hours or high for 5-7 hours.
Be ready for that meat to fall off the bone your onions to more caramelized than you've ever seen before! Boom!
Get More Cold Brew Coffee Recipes!
There are a lot more recipes for Christmas featured in our Madesco Labs cookbooks. Get our specialty bundle with any purchase of our Madesco Labs Products.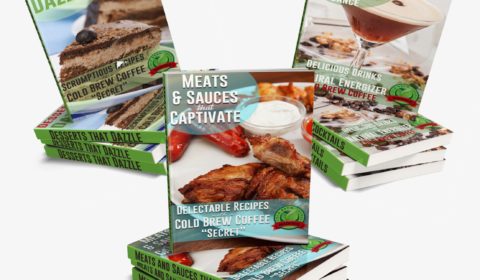 And if you haven't already done so, download your Free "Cooking with Cold Brew Coffee" recipe book here.