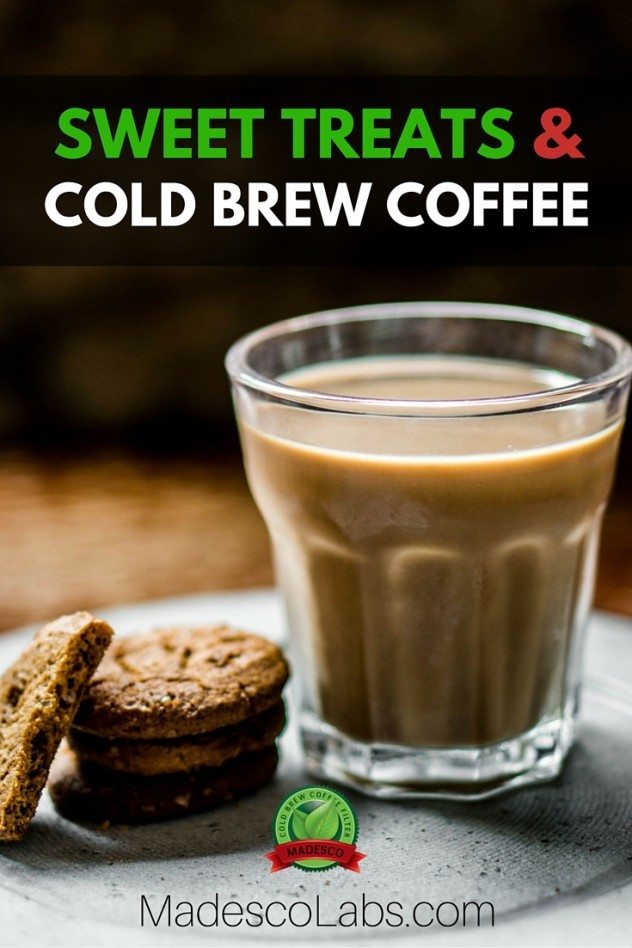 Are you sick of your usual break-time snacks? This article has four fabulous foods tailored to a cold-brew coffee break. Everyone's familiar with traditional coffee sidekicks: yeasty doughnuts with sticky glazes and sickly sweet fillings, or cake so sugary and dense it completely masks the office brew's bitter taste.  The sweet, mellow flavour of cold-brew coffee demands a whole new set of players, treats with subtle flavours and delicate textures.  Best of all, without the cupfuls of sugar you can enjoy the desserts remorse-free…or better yet, enjoy more of them!
Marvellous Macarons
The French have firmly held onto their pastry crown since basically inventing the art form, but one of their greatest sweet achievements is a simple (though anything but basic) confection barely bigger than a silver dollar. The beautiful macaron is criminally overlooked on this side of the pond, although they look like technicolour Oreos and taste like a cupcake's svelte French cousin.  They require only a few simple ingredients but hours of labour and love, pressing and baking almond flour into little discs, then sandwiching sumptuous buttercream frosting between them.  Their flavours are only limited by the baker's imagination: salt caramel, rose and pistachio are three of the classics, but daring pastry chefs sometimes make savoury and even spicy varieties! Bakeries change their line up to reflect fruit and flowers in season, look for blackcurrant (called cassis) in the wintertime and strawberry in the summer! No matter the flavour, these dainty treats are best enjoyed with dainty sips of smooth cold-brew coffee accentuating each unique taste.
Can't Beat Biscotti
Moving a little further to the south we find one of coffee's most sophisticated companions: the long, thin Italian biscotti, or twice-baked, cakey, crumbly and absolutely ideal for dunking in a cup of cold-brew.  Historically, twice-baked biscuits were necessary for trips and long journeys because they kept so much longer than regular bread: some attribute the success of the Roman Army to these hardy little cookies!  It's not so hard to believe: the recipe involves hardly any sugar or oil for a very dense dough. The dough gets formed into logs and baked; then the logs are sliced diagonally and the slices are baked again.  These biscuits are incredibly versatile, and can be flavoured with nuts, fruit, seeds, chocolate, herbs, spices, even cheese!  An island-inspired variation with tender shredded coconut, rich macadamias and just a splash of dark rum pairs especially well with the smooth caramel taste of cold brew coffee.
Fruit with Flair
It can be hard to find actual fruit in some fruit desserts: sometimes the "apple" in your strudel is nothing more than a spoonful of clear jelly.  If you crave real flavour instead of saccharine, search out crumbles and cobblers instead of pastries and pies. Instead of bright red "filling" you'll get a delicious dish of baked peaches, apples, pears or berries topped with a 'crumble' of brown sugar, oats and butter. If you go for the cobbler, your fruit comes crowned with a fluffy biscuit topping.  Both are delicious ways to make the most out of your next cup of cold brew, and get a full serving of fruit too!
Making Your Cold Brew Coffee
If you haven't tried making cold brew coffee yet, be sure to follow our easy cold brew coffee recipes or download our recipe book. You will need to start with quality filters to ensure the best filtration and smooth cool taste.