Surprise her this year with a Mother's Day Coffee Brunch! We've rounded up our favourite Mother's Day coffee recipes that you can whip up to impress your mother, grandmother or any lady that cares for a family. We also included some coffee gift ideas that she'll love too!
Mother's Day Coffee Brunch Recipes
Choose one or both of the cold brew coffee pancake recipes below and top with fruit and our Coffee Caramel Sauce. Be sure to prep your batch of cold brew coffee concentrate before hand with our coffee filters.
Hazelnutty Pancakes
Ingredients:
⅓ cup roasted hazelnuts
⅓ cup cookies and cream protein powder
3 egg whites
¼ cup original unsweetened almond milk
2 Tbsp. coconut flour
½ tsp. baking soda
Directions:
Blend all the ingredients well.
Heat grassfed butter on a nonstick pan on medium to low heat.
Pour batter, flip when it starts to bubble (about 2 minutes). Makes about six 6 inch pancakes.
Top with creamy almond butter, chopped hazelnuts, and a little bit of protein powder mixed with almond milk.
Gingerbread Pancakes
Ingredients:
¾ cup milk
½ cup butter, melted and cooled to lukewarm
4 eggs
2 cups all-purpose flour
1 cup whole wheat flour
1 ⅛ cups light brown sugar
1 ½ tsp. baking soda
1 Tbsp. baking powder
1 tsp. salt
1 ½ tsp. ground cinnamon
1 ½ tsp. ground ginger
¼ tsp. ground nutmeg
⅛ tsp. ground cloves
Cooking spray
Directions:
Whisk together the milk, coffee, butter, and eggs until evenly blended. Set aside.
In a large bowl, stir together the all-purpose flour, whole wheat flour, sugar, baking soda, baking powder, salt, cinnamon, ginger, nutmeg, and cloves. Pour the egg mixture into the flour mixture and stir until combined. Set aside for 10-15 minutes.
Coat the bottom of a large skillet with cooking spray and place pan over medium heat. Scoop large spoonfuls of batter onto the hot pan. Fry until bubbles appear on the surface. Flip and cook until browned on the other side. Continue with remaining batter.
Mother's Day Coffe Brunch Gifts
Here are a few simple gift ideas for your Mother, Grandmother, Sister or another lucky lady!
Creative Mother's Day Coffee Mugs
Is your mother an avid coffee drinker? Do you remember waking up to her freshly brewed beans every morning as a child? Then getting her a creative Mother's Day coffee mug might be the best gift! Go to at Etsy.com and do a quick search for Mother's Day mugs. You'll find a wide variety of creative mugs that have humorous or loving quotes that your mother will enjoy reading while she sips her cup of coffee. Fill it up with quality coffee beans and wrap it with pink wrappings. Finish with a bow. She'll  love it! You can also make these as favours for your grandmother, sisters and any other ladies that join you for brunch.
Make Your Own Mug
You can also add more creativity to your gift by crafting your own Mother's Day quote and designing it on a mug. Choose your own color, mug design, fonts and icons. Personalize with pictures and so much more. Fill it with her favourite coffee beans, wrap it up and tie it with a bow! You can make your own custom made mugs at your local print and photo shop or online at VistaPrint.com.
Madesco Filter Gift Packs
Here's another idea. Get a Cold Brew Coffee Filter and fill it with her favourite coffee beans or simple spa items like nail polish, lipstick and other mementos she would appreciate.
Get More Cold Brew Coffee Recipes!
There are a lot more recipes for Christmas featured in our Madesco Labs cookbooks. Get our specialty bundle with any purchase of our Madesco Labs Products.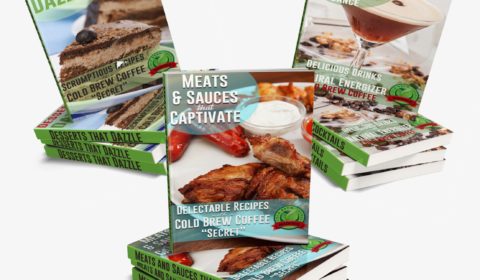 And if you haven't already done so, download your Free "Cooking with Cold Brew Coffee" recipe book here.