Reusable Cold Brew Coffee Filter Pouches (2-pack) – Specially Designed for Cold-Brewing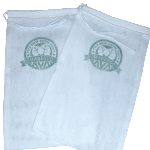 Our featured holiday sale on Cold Brew Coffee Filter helps you give the gift of great tasting coffee! The Madesco Pouch traps the grounds, preserves the healthy coffee oils, and delivers a cold-brew that's never bitter – since natural acids were never chemically changed by scalding water.
Specifically tailored for cold coffee brewing (not a converted nut-milk bag) Affordable, durable and reusable.
Great for travel – throw in a suitcase. Shaped to accommodate most jars and pitchers 6″ x 10″.
This two-pack enables you to make more coffee, different coffees, and extended life.
Accompanying literature provides excellent recipes for cold-brewed, iced coffees and coffee concentrate.
Versatile – make cups, quarts or gallons of delicious cold-brewed coffee and concentrate.
REG $25.00  
NOW $11.99
HOLIDAY DAY SALE ON AMAZON.COM (TIL DECEMBER 27)