Whip up this easy coffee body scrub to create your own DIY spa experience in the comfort of your home! Use it for manicures, pedicures or body buffing to prep your skin for the warm summer months.
Using simple ingredients found in your kitchen cupboard, this beauty treatment will help you remove rough skin while giving you a number of beauty benefits! Because coffee beans supply an abundance of antioxidants among many other nutrients and health benefits, coffee can be used as a beauty ingredient. Caffeine functions as a vasodilator and a vasoconstrictor. It promotes the flow of blood and will tighten the top of your skin to reduce cellulite and make your skin firmer. Coffee is used by many beauty goods on the market as an anti-cellulite agent, as it refreshes and firms the skin. This really is an amazing advantage for you since coffee is an easy ingredient that you can discover within your kitchen cabinet!
So grab your towel, get some candles ready with mood music and indulge in an awesome in-home spa experience with this coffee body scrub.
Coffee Body Scrub Ingredients:
1 tablespoon Ground Coffee Beans
2/3 tablespoons Essential oils or Pure Coconut Oil
1/2 cup Raw Brown Sugar
1 teaspoon Vanilla extract (optional)
Coffee Body Scrub Recipe:
Start out by blending together all ingredients in a big bowl. Play around with the mixture and add more or less of each ingredient until you achieve your desired consistency. Add This is the foundation for your own coffee body scrub. It is possible to leave it as is, or it is possible to add other ingredients to truly treat your skin. Consider adding cinnamon to offer a pleasant scent to your own scrub. Brown sugar will supply a rougher texture to exfoliate the skin. For a sweet aroma vanilla extract or other naturally scented oils will create a great fragrance. This can be an opportunity for you to get creative in making your own personal custom coffee body scrub.
Coffee Body Scrub For Sensitive Skin:
It is vital that you are aware of any skin care ingredients that you may be sensitive to so you do not irritate your skin. If you do have skin that is sensitive, you also should be very careful with using aroma oils. These oils can smell bracing, so if you do have sensitive skin, replace the essential oils with pure coconut oil. Be mindful of irritated areas of the skin. Scrubbing irritated skin can make it worse. Best bet is to test a small area of your skin and watch for a reaction. If nothing develops in 12 to 24 hours, you can definitely proceed with pampering!
Get More Cold Brew Coffee Recipes!
There are a lot more recipes for Christmas featured in our Madesco Labs cookbooks. Get our specialty bundle with any purchase of our Madesco Labs Products.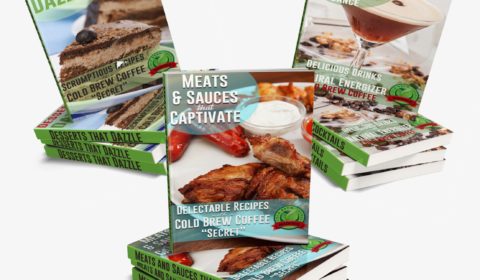 And if you haven't already done so, download your Free "Cooking with Cold Brew Coffee" recipe book here.