There's a thought process that dictates cold brew is only for summer. We couldn't feel any worse for people who think like that, because what they're missing out on are the flavors of fall combined with the feeling of summer.
Chain coffee shops are all about creating seasonal hot drinks, but when it comes to the chillier season the iced beverages are all but forgotten. That's why you should shun chain shops in favor of experimenting at home. Not only will you save money, but you'll enjoy the chance to flex your creative muscles.
It might seem like making your own syrups is a complicated process, but you're underselling your abilities. It's actually pretty easy, and you can make any flavor you want, from vanilla, to pumpkin spice, and caramel. Today, however, we're going to tackle cinnamon dolce. Because, what screams fall louder than cinnamon?
That really famous coffee shop includes butter in their cinnamon dolce syrup, however, we'll be skipping over that infusion. The recipe that we will share with your it sweet and rich, with an edge of spice. It's the ideal complement to a creamy glass of cold brew.
Ingredients List:
Cinnamon Dolce Syrup:
½ cup of light brown sugar
½ cup of water
1/3 cup of pure maple syrup
1 large cinnamon stick
For the Coffee:
Directions to make Cinnamon Dolce Syrup
Add all of the ingredients to a saucepan and set it over medium heat.
Stir occasionally while allowing it to cook.
Ensure that it is heating through and that the sugar has fully dissolved.
Once the sugar has dissolved remove your saucepan from the heat.
Allow it to cool for 15 minutes, remove the cinnamon stick and decant into an airtight container.
Cold Brew Time
Make your cold brew in advance. For the best flavor, allow it to steep overnight. Use Madesco Labs Filters in order to avoid the messy straining process.
Once your coffee is ready, prepare the glass of your choice by filling it with ice cubes.
Now, pour the cold brew over ice, add your cinnamon dolce syrup (we suggest 2 tablespoons, but you can do this to your own taste), and creamer.
Give the cold brew a stir and drink till your heart's content.
While the maple syrup complements the flavors well, it is an optional addition. You can create this syrup without it, however, since we removed butter from the equation we decided an addition was called for.
If you're not a huge fan of a super sweet cold brew, then we suggest you stick to the two tablespoons of syrup. However, the great thing about coffee syrup is that you can add as much or as little as you want.
No matter your preference, you're sure to enjoy this cold brew that brags flavors of cinnamon and brown sugar.
Get More Cold Brew Coffee Recipes!
There are a lot more recipes for Christmas featured in our Madesco Labs cookbooks. Get our specialty bundle with any purchase of our Madesco Labs Products.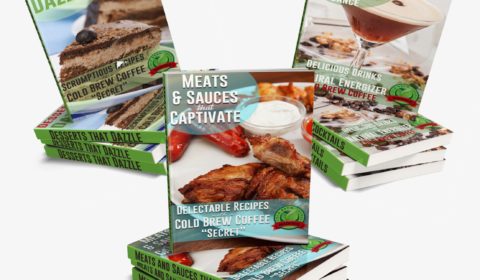 And if you haven't already done so, download your Free "Cooking with Cold Brew Coffee" recipe book here.