As a coffee lover, you want and NEED coffee every morning, so it can be very difficult to enjoy your camping trip with out your routine cup of caffeine. The traditional coffee system that goes along with your portable grill is a huge hassle. You already have a heavy load to pack and having to bring the propane, filters and all your other bulk is just too much.
If you're looking for a camping coffee maker that is small, simple and easy to pack for your camping trip, then the Madesco Labs Cold Brew Coffee Filter is your best bet. What if your coffee system was lighter than a pair of socks and easy to fold into a ball? Well, it's possible! Camping with caffeine is a lot easier than you think with the Madesco Labs Cold Brew Coffee Filters.
Don't just take our word for it. Here's a recent testimonial of how easy Madesco Lab's Cold Brew Coffee Filters make your camping with coffee easier:
It made my mornings while I go camping so much more enjoyable. I used the pouch and put my favorite coffee grounds in overnight for roughly 10-12 hours soaking in a large glass container that I then put in my cooler. Overnight, the magic begins brews its self!!! By the next morning, I had a great cup of iced coffee waiting for me when I woke up. If I want it hot, I put it in a pot and heat it up on my grill or over a fire for my desired temperature. I recommend anyone that goes camping to BUY this product!!! You will not regret it the first morning you wake up and have a delicious cup of coffee!
– Zac Martinon, Amazon Store Review
Easy Camping Coffee Maker with Madesco
Here are seven simple steps to make your coffee while camping:
Place a spoon or two of your favorite medium grind coffee into the Madesco Labs Filter. We recommend Madesco's Code Blue Coffee, which is specifically prepared for cold brewing. Plus the taste is amazing.
Gently shake the pouch to ensure that the grinds have settled at the bottom of the pouch.
Keeping your pouch in a large coffee mug or jar, pour water over the filter ensuring the grinds stay under the water.
Leave the coffee to brew for 12 or more hours.
Enjoy your coffee warm or cool!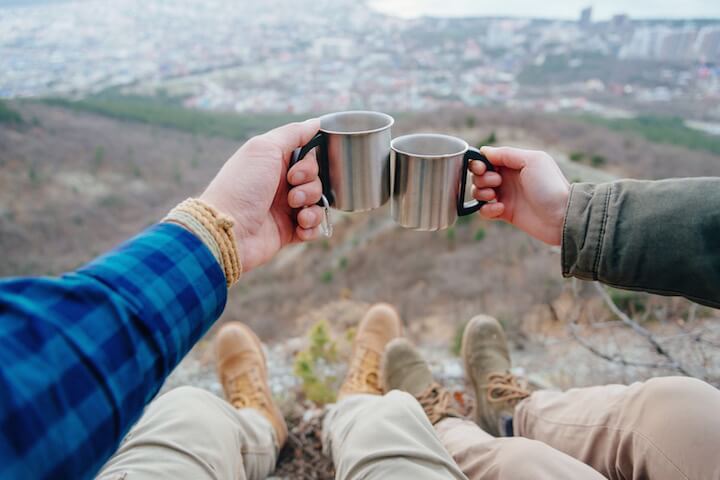 I think it's obvious by now why you would opt out of your traditional camping coffee maker and start using some the Madesco Labs Filters. It's just so simple.
Cheers!
Get "Code Blue" Coffee With Our Free Recipe Book
Order your Code Blue coffee today and try it in one of our popular recipes! Download Your Free "Cooking with Cold Brew Coffee" recipe book!